Meet Dr. Nicole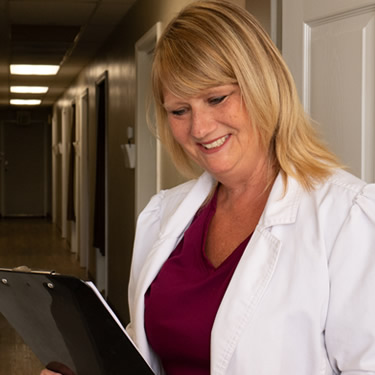 As the daughter of a chiropractor, Dr. Nicole Halkovic sees the spine as more than just an object. She sees it as a part of the entire body – a body that has the power to connect and heal.
Not all chiropractors are created equal. In chiropractic school I was shocked by how many students had never been adjusted. For me, chiropractic has been a way of life.
A breast cancer survivor herself, Dr. Nicole understands what it is like to trust someone with your health. She loves watching her patients change on a daily basis. She understands that there is healing power in relationships – it's not just about putting your spine back in alignment.
My patients don't just come in once and leave forever. We build lasting relationships.
When you meet Dr. Nicole, it's easy to understand why her practice has been successful. Her down-to-earth attitude and great sense of humor put patients at ease.
Chiropractic Career
Dr. Nicole graduated from Palmer College of Chiropractic in 1993 and began as an associate doctor for Dr. Ault in Baker. She worked there for 2 years before taking over Zachary Chiropractic Clinic. She is currently the longest standing and only female Chiropractor in Zachary. She opened this practice while being the single parent to two daughters, so she understands the rigors of juggling work and family life.
Dr. Nicole has been a member of the Chiropractic Association for over 20 years, and is working toward her diplomat in Nutrition. She is willing to work with other professionals such as general practitioners or pain management specialists. She understands that chiropractic can work in conjunction with other types of care to get you feeling and functioning your best.
Chiropractic Care »
Outside the Office
Dr. Nicole has two daughters, three step children, and 6 grandchildren. She and her husband enjoy taking their camper out for the weekend and spending time fishing.
Call our office today and see for yourself how Dr. Nicole's expertise can help you!

Dr. Nicole Halkovic | (225) 654-0048