About Zachary Chiropractic Clinic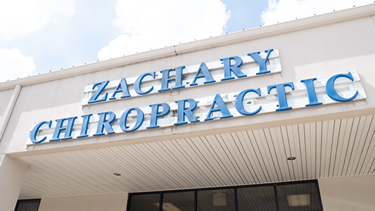 At Zachary Chiropractic Clinic, we do our jobs professionally without taking ourselves too seriously. Our office is relaxed and friendly. But, we don't take lightly the significance of our work. When you choose us for your care, you'll always receive focused, effective treatment that your body needs—no more, no less.
Care is always up to you, and we never pressure our patients into anything they're uncomfortable with. It's simply our job to help your body find its balance and express health the way it was meant to—easily and naturally.
When you lay hands on a person, you connect with the essence of a person, call it their innate, their soul or inner doctor. My job is to remove what interferes with your true self being expressed in your body. It's an honor to serve in this capacity. – Dr. Nicole
Caring for Our Community
We love serving such a close-knit community. We can see how chiropractic care in Zachary impacts our friends and neighbors. Part of our mission statement is "Creating A Healthier Community One Spine At A Time!" And, we're doing just that.
Dr. Nicole recalls a patient who served in Vietnam and hadn't been able to sleep through the night since his time there. After his first appointment, he called with tears of joy because he had finally been able to sleep through the night.
She also tells of a 4-year-old girl who had never walked without a walker, and after only two adjustments she could walk on her own.
We consider it a privilege to offer hope for a better way of life. We offer an atmosphere of love and compassion and will do everything we can to help you.
Meet Dr. Nicole Halkovic »
Discover How We Can Help
Whether you are in pain or simply looking to improve your health and vitality, we would be honored to welcome you to our practice. Call (225) 654-0048 to get started. We can't wait to welcome you and your family to our friendly practice—get started today.

About Zachary Chiropractic Clinic | (225) 654-0048